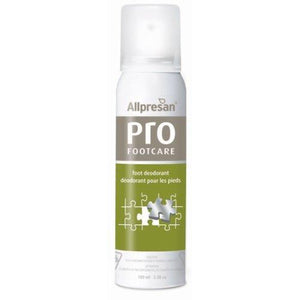 Allpresan
ALLPRESAN Foot Deodorant
Regular price
$29.00
$0.00
Unit price
per
ALLPRESAN FOOT DEODORANT
Helps to eliminate a condition that is causing an unpleasant odour such as fungus or excessive sweating, experience hot feet, to ensure their feet smell fresh all day.
Contains Tea Tree Oil combats odour causing germs. Menthol cools the skin with a fresh scent.
Tea tree oil - effectively targets bacteria which cause foot odor Menthol – restores freshness after a few seconds Can be also sprayed on stockings and in shoes
Eliminates unpleasant and annoying foot odours
Effectively targets bacteria that cause foot odour
Restores freshness and a pleasant scent after only a few seconds
How to use:
Shake well and then hold the can upright to dispense about 12 cm from the bottom of the foot. Spray each foot with one squirt once each day after cleansing routine. This product is very concentrated, use sparingly.
Allpresan foot care is an Award Winning dermatological product that has specific patented formula for all skin types. Allpresan's "Foam Cream Technology" moisturises and strengthens the skin's protective barrier. It provides optimum hydrations with effective supply of nutrients and additional protection against bacteria, viruses and fungal parasites. The key main ingredient in Allpresan is urea, a natural moisturiser secreted by our own cells. It plays an important role in maintaining a healthy epidermis.
---
Share this Product
---